frequently asked questions
LONGAY CONSERVATORY OF GUITAR DOCUMENT / UPDATED: JANUARY 19, 2010
Why are lessons in the Suzuki Method advantageous in learning music?
The Suzuki approach fashions the process of learning music in a way which is the most natural for a child...by using the ears. The approach is in tune with the child's natural ability to learn by sound. This ability is highly developed in very young children for the purposes of learning language.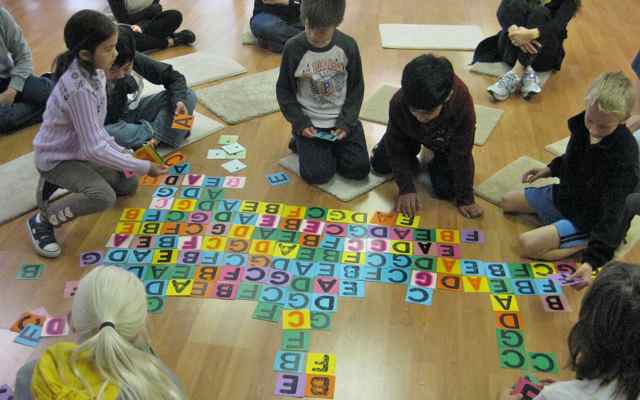 LCG students are engaged in fun activities to instruct them in musicianship.
I heard that children studying the Suzuki Method don't learn to read music.
A number of factors have contributed to the general impression that Suzuki students don't learn to read. However, this is simply not true of programs with trained Suzuki teachers. All students studying guitar at the Longay Conservatory learn to read music.
I have heard that it is better to study piano than any other instrument to get better musical training.
Contrary to popular opinion, playing the piano is not a prerequisite to a quality music education. Some keyboard skill is useful for those pursuing a career in music. A first rate music program, however, will provide everything a child needs to round out a music education regardless of the chosen instrument.
Why classical guitar?
Although many people know about the guitar as it is presented by popular entertainers the guitar enjoys a long standing classical tradition. Although it boasts a broad repertoire of its own, the music of masters such as Bach and Mozart is alluringly interpreted on the instrument. Many children, as you may have already discovered, seem to be especially drawn to the sound.
With my busy schedule I'm not sure I have time to dedicate myself to helping my child with music.
In the Suzuki approach parents play an integral part in their childrens musical education. And, of course, it's true! We're all very busy. However, parents committed to the method are willing to spend a little time each day with their child. They see it as an opportunity to give support that they otherwise would not be committed to give. Through the study of music parents in our program have come to know their children in unique and intimate ways. They have also reported learning effective skills which have, in a variety of ways, positively impacted their relationship with their children.
How do I know that a teacher is qualified to teach Suzuki?
Beware! There are those who are calling themselves Suzuki teachers who have had little or even no training in working with children. Always check your teacher's credentials.
How do I know that a teacher is qualified to teach classical music?
Additionally, always confirm the educational accomplishments of any teacher under your consideration. Your teacher should have a degree in classical music and should...
have the tools to effectively direct your child in establishing a secure and relaxed technical foundation,
have the ability to inspire young people to high musical sensitivity and expression,
be well educated in the stylistic and historic practices of the musics of various time periods
provide a comprehensive musicianship, theory and ear–training, program including the development of sight–reading skills
as well as have the training and experience to motivate young players.
See our staff page for the exemplary qualifications of the Conservatory staff.
What hard evidence do I really have to demonstrate that music is as good for my child as music teachers say it is?
A recent Harris Poll clearly demonstrates that children who study music benefit significantly throughout their lives. "While singing in a chorus or playing an instrument is fun, it can also provide important skills like creative problem solving that can help lead to higher education and incomes as well as personal fulfillment."
Also, new research in neurobiology reveals that young children who were given weekly music lessons and daily group singing lessons dramatically improved the type of intelligence needed for higher level math and science. In a study titled "Music and Spatial Task Performance: A Causal Relationship", a 46% boost in spatial reasoning IQ scores resulted from just eight months of traditional music lessons. Researchers say this reveals "a very powerful tool for the enhancement of children's intellectual development."
The study shows that "musical activities help systematize the neural firing patterns of the brain's cortex so they can be maintained for other pattern development duties [of the brain], in particular, the right hemisphere function of spatial task performance." (Rauscher, Shaw, Levine and Ky, 1994.)
Another interesting and recent study of a group of socially disadvantaged second grade students...in Greenwood, Mississippi demonstrated that after two semesters of keyboard instruction, the children in the study displayed an average increase of seven percent on their achievement test scores, compared to no increase in the control group of students who received no music instruction. The study indicated that learning music aided students in many areas, especially in the prereading skills of listening, concentration, pattern recognition and sequence cognition. (Electronic Musician Magazine, April, 1992, "Midi Enters the Classroom" by Edward Tywoniak)
Maybe music is good for him but my child doesn't seem to show that much of an interest.
We have discovered that it is best not to ask children if they would like to start to study music until they have been immersed in its fun and beauty. Be sure to discuss this point with your potential teacher before asking your child about whether he or she would like to take lessons...
and...
At LCG we are glad that music students enjoy benefits of cognitive and intellectual abilities. In our increasingly technological age, however, there is always the danger that children may grow up without knowing their true selves. Most importantly, our primary concern is in educating the whole child. With the highest regard for the happiness and well being of every child, a quality music education will continue to foster what Dr. Suzuki calls the "Noble Heart."

---
© 1998 Frank Longay
All material at this Web Site is copyrighted.
Duplication of any part of this material, in any form, is strictly forbidden.
All rights reserved.