suzuki guitar!
In existence since 1983, the Longay Conservatory of Guitar is dedicated to raising the potential of children through the Suzuki approach to music education. Our experience demonstrates that all children may achieve very high levels of musical ability in an enriched and motivating environment and that music and the arts cultivate a happier, more capable individual.
It's a wonder to see my son developing his own love of music. It has a positive influence that transfers to the other areas in his life. The positive reinforcement to his self-esteem from this program is immeasurable.

— Parent, R. Milton, Fremont
Students from 3 to 17 years old study music and the classical guitar with active family support. Curriculum activities include music skills, theory, sight-reading and instrumental technique. Weekly private lessons are enhanced by group lessons which teach performance and ensemble skills.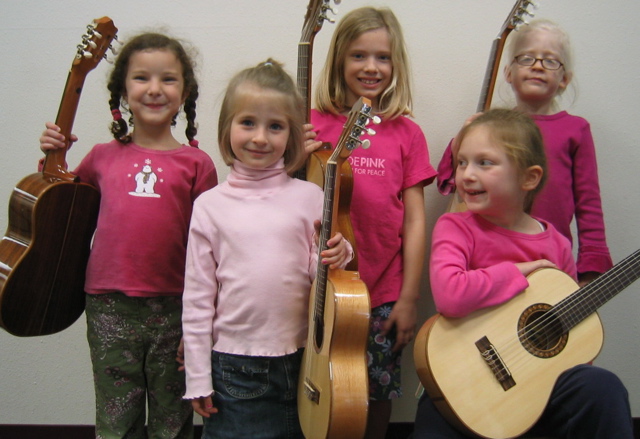 I have learned a lot about myself as well as my children and feel the guitar helped my daughter develop higher self-esteem and confidence.

— Parent, A. Schultz, Los Gatos

Frank's unique approach to teaching and his genuine compassion for young students is a model for both teachers and parents.

— Suzuki Talent Education
Association of Australia
FAMILIES LEARN GUITAR at the LONGAY CONSERVATORY OF GUITAR to: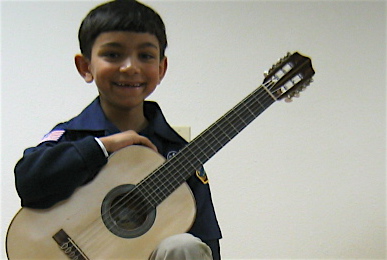 Have fun making music
Increase self-esteem
Develop focus and concentration
Foster self-discipline
Improve study skills and academic performance
Learn healthy and creative avenues of personal expression
Cultivate a joy of learning
Gain an understanding and appreciation for physical capabilities
Increase mutual respect and understanding between parent and child
Develop intuition through enriching one's aesthetic sense
Gain an appreciation for cultural diversity.
"I am reminded over and over again of the tremendous value that learning music has for the young. Today's children are confronted on all sides by numerous domestic and social challenges. The elegant and rewarding discipline of music stands out as a powerful aid in directing them towards a healthy, happy and responsible adulthood."

— Frank Longay
---
If you have not done so already, please explore the following pages which briefly discuss the Suzuki approach...
This page offers a brief summary about the Suzuki Method.

Get the straight story about the Suzuki Method.

---

© 1998 Frank Longay
All material at this Web Site is copyrighted.
Duplication of any part of this material, in any form, is strictly forbidden.
All rights reserved.