Recuerdos

t is especially gratifying to be able to present the following experiences by the festival teachers, trainees, parents and students. It brought back a lot of great memories. If you would like to contribute to the list you are welcome. Send your comments to me and I will post them. Also, you may notice that there are not a significant number of pictures of the children. If you have a gem or two please send them along to me. I would love to post them as space permits.
Many of the photos on this page were taken by our festival photographer, Stephan Hörold. High resolution photos are now available for purchase. The photos can be viewed at : International Suzuki Guitar Festival 2008 : photos. Information on how to purchase digital or printed photos is also available on the page.
I would like to express my deepest appreciation for all of you who brought so much to this great event. It is an honor to be a part of such an extraordinary community of teachers, parents and children.
— With heart–felt appreciation, Frank Longay
---
new entries...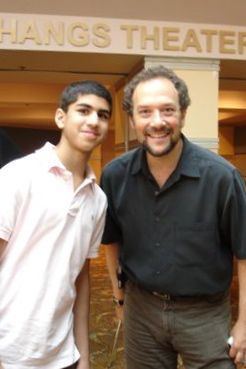 Aarish (Melbourne, Australia)
and William Kanengiser
photo : Zeah Riordan
"It was my pleasure to participate in the International Suzuki Guitar Festival put together by the Longay Conservatory in Santa Clara, California, this past July. I met dedicated and enthusiastic instructors from around the world, including Sweden, New Zealand and Mexico, and I had the opportunity to work with some very talented young students in my master class. I was very touched by the reception at my recital, which was met with warm appreciation. I remember looking up at the audience, and being amazed at how attentive and quiet the seven and eight–year–old students were! It gives me great hope for the future of the classical guitar to see new players and audiences being nurtured so well.
"As a professor at the USC Thornton School of Music, I have had the opportunity to work with some excellent players. My newest student, a Doctoral candidate who plays at a very high level, and has already studied at Julliard, told me in her first lesson of the semester that she began to play the guitar when she was a small child as a student of Frank Longay; one never knows how far our young students can go! "
— William Kanengiser, Whittier, September 9, 2008
"Thank you Frank and Kim, for planning, organizing and hosting the first International Suzuki Guitar Festival. It was an incredible experience for my kids and me. It would be hard to list all the great activities. One of the many highlights was Celso Machado¹s concert. I believe that was the shortest hour I have ever experienced, and I think the concert was the best performance I have ever seen! The showcase concert also was a great one; it was a nice tribute to how far Suzuki guitar has come. Watching the way the Kanengiser masterclass performers conducted themselves and responded to his suggestions was equally amazing. The enthusiasm in my training course was extremely high, created by the excellence of the Festival. Leading the Festival Orchestra was a high point for me. To come in that first day and have the ensemble play so well that we immediately worked on ensemble, interpretation and articulation was unprecedented. They performed so well after just 4 rehearsals. When I first became involved in the Suzuki guitar method in the early 90's, I never dreamed of something like this festival as being possible. This was a great tribute to the ongoing development of Suzuki guitar. It was a great tribute to the vision of Dr. Suzuki and his philosophy, for we truly had an incredible group of teachers, parents and children celebrating his legacy."
David Madsen, festival teacher, Connecticut
---
original entries...
"Frank, The training was intense, but it was also exceptional. I got a new level of knowledge and experience by participating in the ECC and Unit One training. It not only helped me become a better teacher, but it reinforced a lot of the Suzuki principles that I have been taught as a Suzuki student. As a result, I will become a better player, too."
"Also, the conference (festval) was excellent, and the performances by students only reinforced how well Suzuki works in training guitar players, enhancing supportive child and parent relationships and creating some outstanding young citizens that will be likely be leading our country in the years ahead. I hope we can all find a way to open up Suzuki to more children in the years ahead."
"Thanks again for sharing your knowledge with us."
— Stephen Roberts, trainee, Fair Oaks, California
"One of the fascinating parts of the festival for me was the 'international' aspect. To see teachers from all over the world under the Suzuki umbrella – using the same method, only with such a diversity of creative teaching styles was priceless. I got a strong sense of how global Dr. Suzuki's work has become, and how the language of music has no barriers. Celso Machado had the children under his spell. The power of play was woven throughout his classes, and his command of so many instruments had the kids following him around like the pied piper. Truly a one of a kind event. Hopefully with many more to follow!"
— Carol Tileston, trainee, Pennsylvania
Faculty and students perform Recuerdos de la Alhambra.
photo : Tatiana Muños
"Thank you for the experience of a lifetime. It was awe inspiring to hear Bill Kanengiser's master–class and concert and spend the week with Celso Machado who jammed with us and got us grooving like never before. It was also fabulous to observe lessons given by tutors from around the world from South America to North America, Sweden to Australia. I've heard the emphasis on tone being described as chewing–gum strings, ice–cream scooping, contact, you name it but the beauty arrived at was universal and full of heart. It was impressive to see the achievements of young students who had no memory of ever not being able to play the guitar, and see the great care they took to listen and learn everything that was being taught. The chocolate fountain and mountains of cookies on the last day were just the icing on the cake which was enormously rich in itself. I wish I could re–live the festival over and over again and get to know all the wonderful people who took part. Thank you everyone for making the festival so great."
Sasha Witten–Hannah, trainee, New Zealand
Zeah Riordan presents the keynote address,
"Sympathetic Resonance — The Magic of the
Suzuki Community"
photo : Stephan Hörold
"I have wonderful memories from the International Suzuki Guitar Festival. The evening with Celso Machado was a phenomenal experience disguised as a concert. The training sessions were everything that one could hope for and more. However, the entire week was encapsulated in one experience for me. That was when I observed a group of tiny Book I players preparing Tanz for the final concert. The music they played with their instructor was wonderfully performed and their ability to play with feeling and interpretation at their age was something that touched my heart."
— Jim McReynold, trainee, Oregon
"I was happy and proud to be in the first International Suzuki guitar Festival ever. One of my favorite activities were Orff classes with Miss Kristin. My favorite teacher was Miss Zeah. I really enjoyed Master class with Miss Diana (especially when Miss Diana gave out butterfly stickers.) The Suzuki Guitar Festival was fantastico. (P.S. I also liked the vending machine.)
— Alisha, student, California
"The Festival was a very positive experience for me. Sharing ideas and camaraderie with fellow teachers, seeing young students play at such high levels of ability, and having the Kanengiser master class/concert and Celso Machado concert were all memorable high points of the week's program. Perhaps the high point of the off–program activities was seeing Celso light up the room when he joined in with the band at the Brazilian restaurant after his concert. Congratulations on an inspiring and well planned festival."
— Jay Rosenberg, trainee, Maine
"I can surely say that coming into California, my mother and I had high expectations and were ready for an intense week of playing the guitar, following a daily schedule with many different classes and activities, and learning new techniques and methods from the wide international panel of teachers and all their different styles of teaching. I can also say that within the first day of classes, the bar was raised in all these categories and myself and my mom were astounded at the organization, setup, and class of all the aspects of the program that were put together to form this amazing week. I left California with many memories of friends (new and old), teaching moments, and many rhythms of classes that will forever stay in my mind to remind me of what a great week it was and a wonderful experience that could not have been any better!"
— Chas, student, North Granby, Connecticut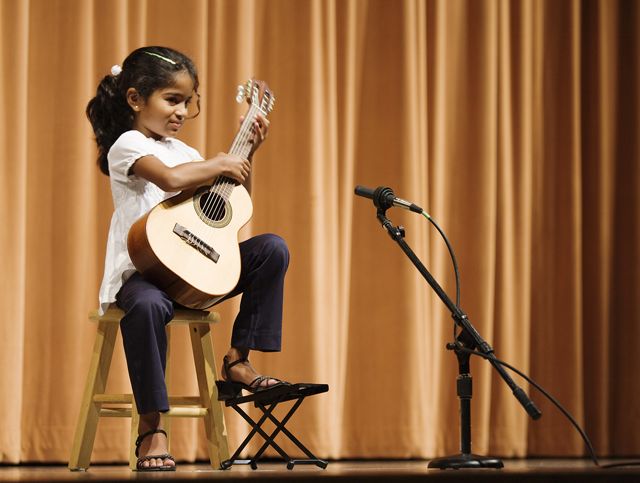 A Showcase Concert performer.
photo : Stephan Hörold
In a fall–semester letter written to her students, Lisa Ronis wrote...
"You are about to start another year of guitar study and I am very excited to share with you and your children what I experienced at the International Suzuki Guitar Festival (ISGF). The festival and Suzuki institute was in Santa Clara, California, where Frank Longay has his conservatory of guitar. Frank is one of the founders of the Suzuki Guitar School and I did my second part of the book 1 training with him in Dallas in 1990. He has come to Little Rock to work with my students, but I think that that was before your children started lessons. Actually, if it weren¹t for him calling me up last May and convincing me to go to the ISGF, I would have missed one of the most profound experiences of my teaching career.
"In the true spirit of Dr. Suzuki¹s concept: environment being most important for learning, the ISGF was a complete immersion of guitar music and Suzuki philosophy. It was definitely a positive environment where I was able to learn and be inspired. You might think that after having been around some of the world's best Suzuki guitar teachers and attending the concerts of two of the world¹s best guitarists, William Kanengiser and Celso Machado, and listening to the Hart School of Music Guitar Orchestra, and young students playing advanced classical guitar pieces, that at age 51, I would have simply thrown up my hands and begun planning for an early retirement. How could I reach such a high level of playing and teaching my self? This is impossible! Oh yes it is! Remember that Suzuki quote, 'Ability equals knowledge plus 10,000 times.' After listening to the key note address titled 'Sympathetic Resonance – The Magic of the Suzuki Community' given by Zeah Riordan from Australia, I realize that I have another important theme to take back home to all of you in Little Rock. The teaching I have done here in Little Rock and what you and your children have achieved in these past years is awesome and is an excellent contribution to the greater Suzuki guitar community. Dr. Suzuki wanted families to be part of a community. He fostered cooperation, not competition. After attending the festival, I feel more confident about my own playing and teaching. I am more motivated and less intimidated to keep on teaching and learning the classical guitar. Dear parents and students in Little Rock, we are part of this wonderful Suzuki community. You may not know it, but by me taking the Book 5 professional development with such an inspiring teacher as Dave Madsen and receiving some private guitar instruction with Rob Watson, I hope that you will take your child to a Suzuki Institute. The most important lesson review point that I take home to you all came from listening to Ayush Midha ( I think he is 10) play the Gavotta–Choro from the Suite Populaire Bresilienne. His performance was the 'living soul' that Suzuki writes about. I heard beautiful music, but I witnessed a wonderful human being.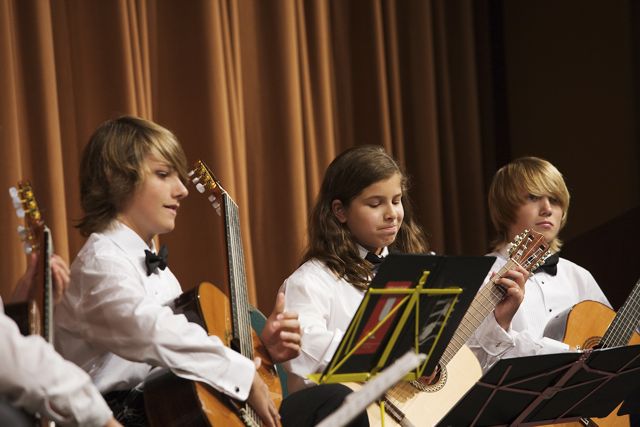 School's Concert performers: Hartt School.
photo : Stephan Hörold
"In 1997 I went to a concert somewhere in Missouri to listen to the 'Talent Education Tour' which featured young musicians from the Suzuki School in Japan. After the audience including myself had listened to the beautiful, amazing and technically brilliant performances of the very young children, the violin teacher came out and reminded the audience that Suzuki's goal was not to create better musicians, but better human beings. In similar, but different terms Frank reminded this festival audience about why we teachers, parents and children are here in sunny Santa Clara. The showcase concert that featured outstanding students like Ayush was inspired by the kind actions of another Suzuki guitar student who wanted to raise money for children in Iraq. Some of the proceeds of this concert will go the Wheels for Iraq Kids fundraiser. The ISGF was a true example of Dr. Suzuki's ideas, a great environment, tone is the living soul and creating better human beings. I am so happy that I was a part of this experience and look forward to sharing it with you this coming year."
— Lisa Ronis, trainee, Little Rock, Arkansas
"Overall, my son, Frankie and I really enjoyed the festival. Meeting Frank Longay was the highlight of the trip. We have shown the photo of the two Franks to everyone. The teachers were exceptional. The concerts we attended were fun, especially Celso.
"Diana¹s class was Frankie¹s favorite. It was extremely cool that Diana¹s first language was not English and that there were interpreters for them. Could it have been more international?! He had to watch her very carefully to understand what she was teaching, and he did. He really appreciated the stickers she handed out for good work. And now he understands what I mean when I say, "Lento, lento." Diana did a great job of getting him to think less of notes, and more of music. She helped correct his hand positions for some chords which we have been trying to fix for a while. She focused his attention on how to express the beauty of the pieces he played.
"MaryLou rocked! She was one of the fastest thinking teachers I have ever seen. As she looked around the room, spotted kids needing correction, and offered very patiently worded questions or suggestions in a matter of seconds. They were a challenging group of kids at different social/developmental levels. She did a superb job of getting them to play together. I especially liked how she included everyone whether they could play the pieces yet, or not. It didn¹t look like anyone felt left out. She played games, danced, did tricks to get them to understand ideas w/o them even realizing they were learning music theory. She gained their cooperation so seemingly effortlessly that I could tell she has had a lot of experience.
"We loved Emily! Patient, very enthusiastic and knowledgeable, I also took the parent yoga class, and find myself automatically doing the breathing when I am under stress. Frankie remembers a lot of what she taught, and we have demonstrated our yoga to his sister and his friends.
"Frankie loved Kristin and Orff. He especially liked the Orff instruments. There was so much going on in each class. Fast moving and always interesting, and again, educating without them realizing it. Kristin is a gentle person and was able to convey her ideas to a rather young/active group of kids in an effective way. I loved the songs she taught them."
— Joanmarie Wendelin, parent, New York
"This was a great experience for us. I am amazed that you were able to gather such talented teachers and artists together from all over the world. Alexander really enjoyed his first Master class with Michele Horner and group class with Zeah Riordan. Each had different teaching styles and games that made class so fun for all the students and parents."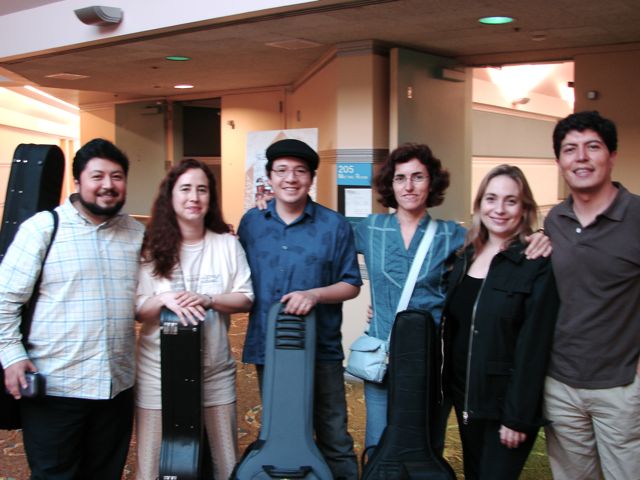 Members of the Latin contingent : Ricardo Salinas,
Mexico City, Mexico; Tatiana Muños, Santiago, Chile;
Javier Trujillo, Oakland, California; Nuria Cervantes,
Barcelona, Spain; Diana Chagalj, Buenos Aires, Argentina;
Joaquin Olivaris, Mexico City, Mexico.
photo : Tatiana Muños
"The kids were delighted by the unexpected sounds and engaging music of Celso Machado. We also found the student concerts inspirational, especially watching the older kids play. For weeks afterward Alexander was humming the tune of Nonesuch, even though we're only on Book 1. It takes many years of dedication, and I really admire the students, parents and teachers who are so committed to Suzuki guitar.
"I also found it refreshing to have a chance to chat with other parents and look forward to continuing this dialogue. I would love to see an online forum for Longay parents to share common concerns and advice and to build a supportive community. (We've had a glimpse of what to aspire to; now how to get there is another matter altogether, requiring all the guidance one can get.... I wish I had the chance to attend more of the parent talks/lectures, but unfortunately some coincided with the master class. I did get a chance to hear Michele's parent talk and found her tips very useful — she has kindly emailed her notes to me and given permission to share them with other parents who couldn't attend.
"We also took the Kids Yoga class and Art class, which were good diversions for Alexander. We really appreciate all the effort that you and Kim put into a successful event! We will remember the Festival as an outstanding experience for our family, and look forward to the next one!"
— Karen Ng, parent, California
"Just wanted to let you know what an honor it was for me to have been a part of the International Guitar Festival. It was an inspiring week and helped to recharge the batteries! ... I feel it is important to let you know what a great job you and Kim did in putting this all together. Bill Kanengiser and Celso Machado were great inspirations and all the kids did great. I enjoyed teaching your students as well as the others. The festival will be a pleasant memory for some time. Thanks again for a great week."
— Andy LaFreniere, festival teacher, Connecticut
"Becca was a participant in my Guitar Orchestra, a beginning–level class that included students who had some prior ensemble experience as well as those playing in a group of this type for the first time. I knew Becca and her mom from Suzuki institutes in their home state of Colorado, and it was good to meet up with them at the Festival. Becca¹s teacher at home, Joe Beninghof, had done an excellent job of preparing her for the ensemble, but there was one spot in one piece that was giving her trouble. I was pleased that Becca¹s mom felt comfortable in asking me for some guidance, so we set up a date for a working lunch. We managed to sandwich, pardon the expression, small steps and many repetitions between bites of tuna fish and bagels with peanut butter, and Becca¹s confidence seemed to grow with her new ability.
"While the immediate payoff for our work was Becca¹s success in the final concert, what I valued most about this experience was the time spent sharing lunch and music with a terrific young lady and her mom. For me, this really exemplified the open, sharing atmosphere of the International Suzuki Guitar Festival. "
— Mychal Gendron, festival teacher, Rhode Island
"Thank you for a great Festival! It was very nice of you to invite me. I can not remember having spent a better time since I do not know when! It was so nice to be together with David, Andy, Mychal! Great colleagues you have, Frank!"
— Harald Söderberg, festival teacher, Sweden
"Imagine spending a week watching the best Suzuki guitar teachers in the world perform their magic with young guitar students from around the world. While the teachers would not call it magic, it was magical for a Teacher Trainee like myself to see the variety of styles and tools used for guitar students to work toward the common goal of playing beautiful music. Whether the teaching style is from Australia, New Zealand, Argentina, Sweden or any region in the United States, the one–point teaching philosophy of the Suzuki Method is not magic. It¹s a highly successful and proven method of enjoying the process of learning to play beautiful music. This was proven to me over and over again during my 16 hours of observing master class and group lessons. Hopefully, I can be as contagious with my enthusiasm for teaching the guitar as these fantastic teachers from all over the world were."
— Harald Sexton, trainee, California
"I liked meeting new people from the different institutes. I also enjoyed the master classes, orchestra 3 ensemble classes, repertoire, and brazilian guitar. The various concerts were awesome and I loved playing the guitar in them. I also enjoyed the breaks because we got to meet new people, play the guitar, and play poker. Overall the festival was great!"
— Ross, student, California
"I have a treasure chest of memories of the recent International Festival of Suzuki Guitar held in California. It is best summarized in two words: music and friendship. These two elements choreographed a wonderful dance through the week of classes, concerts, and special events. I was honored to be invited to teach at this event. So much care, and thought went into the planning of the Festival and it was reflected in the high quality of the experiences offered. Students had a diverse range of musical offerings, and a unique opportunity to go deeply into their playing. What stood out for me during the week? I had so much fun working with children of all levels, experiencing directly how the Suzuki repertoire links our worldwide community. I resonate so strongly with my teacher colleagues – spending time together nurturing our common vision was deeply enriching. Sitting one morning playing guitar with New Zealand teacher colleagues and an American student — just for the fun of it. The generosity of so many — Kim and Frank took such care through the week so that families and teachers had a memorable experience. Brazilian guitarist, Celso Machado continued making music in every break between classes: sharing, showing, and creating — wow! His concert was a true highlight — my smile muscles were tired because I simply could not wipe the smile from my face — his music making was so joyous!
Celso Machado leading a Brazilian drumming class.
photo : Stephan Hörold
"I speculate about the impact of a Festival like this ­ naturally everyone present will have been touched in some way by the music, by the good will and open hearted feelings of the week. One of the secondary benefits of any institute or teacher training is that many other students and families will be indirectly touched by this gathering as the many teachers present attending training units and the teaching faculty takes back to their teaching programs new ideas and inspiration and students who attended share their heightened motivation with their home studio peers. From the opening ceremony where we performed Requerdos de la Alhambra to the closing gala concert where nearly one hundred guitarists performed on stage together – Good memories all! "
— Zeah Riordan, festival teacher, Melbourne, Australia
"The only thing I would like to say is that the festival was the coolest institute I have ever been to! If I could, I would go again next year. I liked all of the students and instructors at the camp. It was totally fun! Thanks again!"
— David, student, Pennsylvania
"What I liked about the festival were the master classes, the yoga, ensemble 3, and jazz improvisation classes. I also enjoyed playing in the showcase concert and listening to the other students play. I think that the festival was well organized and great!!!!!!"
— Sarah, student, California
"The festival was a fun experience for the kids and they enjoyed it very much. They enjoyed many of their classes and the concerts."
— Chris Min, parent, California
"Really, for me this Festival was a great experience knowing so many people friendly, republish delighted with the Method, and above all filled with new energy to go ahead and really think that the work I do is done with love. That after so many years really worth and teach at the same time learn from this."
— Tatiana Munoz, trainee, Santiago, Chile
"Incredible, just incredible!"
— Carol Tileston, trainee, Pennsylvania
"My sincere thanks to you and Frank for an unforgettable week — it was the best of many great experiences I have had as part of this fantastic community."
— Mychal Gendron, festival teacher, trainer, Rhode Island
"We came to the Suzuki International Guitar Festival seeking inspiration; we've been pioneers in Suzuki where ever we've moved over the last 7+ years, so we looked forward to having the opportunity to play repertoire with others at my son's level. On the second full day of the festival, despite his protestations, Liam had to arrive earlier than his scheduled classes because we wanted to attend a parent lecture at that time. We told him to work on his practicing. In the common space, a group of three teachers was practicing repertoire, and after Liam finished his practicing, he began to play along quietly. From across the room, they noticed him, and they invited him to join them. At the end of that day, Liam begged us to let him come early the next morning as well. We had found our inspiration."
— Laurie Girand, parent, San Diego, California
"Quería agradecerles nuevamente por esta gran oportunidad que me brindaron. Pasé unos días hermosos junto a ustedes, me sentí como en casa. En cualquier momento les envío algunas fotos que salieron muy bonitas. Los alumnos que conocí son maravillosos. Disfruté tanto de poder conocer a tantos profesores y alumnos de todas partes del mundo! Los felicito por el inolvidable Festival que organizaron!!!"
— Diana Chagalj, festival teacher, Buenos Aires, Argentina
Gala Concert featuring 100 guitarists from 9 countries!
photo : Stephan Hörold
Order Pictures
Many of the photos on this page were taken by our festival photographer, Stephan Hörold. High resolution photos are now available. The photos can be viewed at : International Suzuki Guitar Festival 2008 : photos. Information on how to purchase digital or printed photos is also available on the page
Order DVD
This DVD features scenes from...
Opening Ceremony (selected scenes)
Schools' Concert (selected scenes)
Candid Scenes from Master Classes and Group Classes
Showcase Concert
Gala Concert (selected scenes)
For each parent, teacher or interested individual : $35
Download an order form
---

LONGAY CONSERVATORY OF GUITAR
DOCUMENT UPDATED: AUGUST 11, 2008
© 2008 Frank Longay All rights reserved